Chiropractic Care
Dr. Carla works with patients from all walks of life to develop care plans designed specifically for their needs. We're proud to offer a variety of adjustment styles designed to restore function and balance to your spine. With every patient we see, we'll evaluate his or her needs thoroughly before recommending a care plan to ensure our evidence-based approach is as specific and focused as possible. We want you to experience incredible results that allow you to get back to your life!
Functional Movement Screen (FMS)
The Functional Movement Screen (FMS) uses objective and validated standards to check the movement baseline of an individual. It measures seven fundamental movement patterns that are key to functional movement quality in individuals with no known pain or musculoskeletal injury. The FMS can help identify limitations or asymmetries and find opportunities for improvement. Dr. Carla can use these observations to provide you with purposeful and precise exercises and movements that will allow you to improve your functional movement quality and build foundations for lifelong movement success.
Massage Therapy
We have five certified and talented massage therapists at our office. Massage therapy can be used to relieve pain, rehabilitate sports injuries, correct spinal and joint misalignments and aid general wellness. We use this therapy with a specific treatment plan in mind that helps you achieve your health goals and needs.
One technique we are certified in is the John F. Barnes' Myofascial Release Approach®. This approach consists of the gentle application of sustained pressure into the facial restrictions. It is considered the ultimate mind/body therapy. The Myofascial Release Therapy is used to reduce pain and tightness, improve daily functional movements, increase body awareness, and more.
Corrective Exercises
We teach our patients special "blueprint" exercises to help strengthen and correct their own unique problem. These exercises can be performed in the comfort of your own home and can improve the effectiveness of your spinal correction. In addition to skeletal misalignment, muscles and connective tissues can be out of place or strained by improper alignment and use. Specific exercises and stretches can help your body stay in balance and in health.
Nutrition
Dr. Carla uses nutrition, especially diet and lifestyle changes, to help patient's bodies function better and to work with the root issues that may be causing their bodies to not function optimally. While working towards an Applied Nutritionist Certification we are currently qualified for Functional Nutritional Assessments and have been getting great results with many happy clients.
Adjunctive Therapies
Electrical Muscle Stimulation
Electrical muscle stimulation (EMS) is a treatment method used to reduce pain, swelling, and recovery time. Grote Chiropractic utilizes High Voltage Pulsed Current (HVPC).
Electrical muscle stimulation works well for both acute and chronic pain, soft tissue injuries, muscle spasms, and even for athletes who want quicker recovery from workouts. If you have been struggling with pain or have recently suffered an injury, ask us if EMS is right for you.
Spinal Decompression
Often times patients have neck or back pain that results from having compressed nerves or disc bulges.
Grote Chiropractic administers a state-of-the-art spinal decompression machine that distracts specific areas of the spine. This relieves pressure on spinal nerves, increases nutrient flow, and decreases pain associated with spinal disc problems.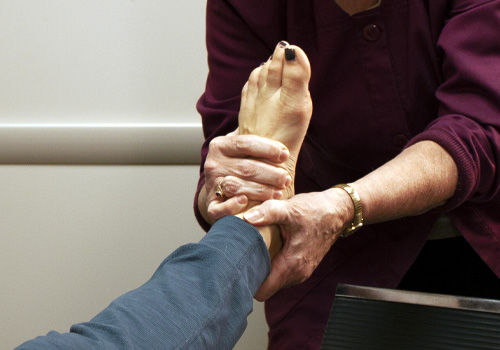 Custom Orthotics
The feet are the base for your body function, but they're often overlooked when it comes to caring for them properly! In fact, a large amount of lower extremity issues can be traced back to your feet and arch problems.
Do you experience pain daily? Maybe you have plantar fasciitis or struggle with low back pain? Over-the-counter inserts may not provide the relief you need. Grote Chirporactic offers Foot Levelers which are individually designed, functional orthotics that support all 3 arches of the foot that make up the plantar vault.
Foot Levelers is the world's leading provider of individually designed custom orthotics. They're custom-made by hand based on your unique feet, body and health profile. Just as no two bodies are alike, no two pairs of Foot Levelers custom orthotics are alike.